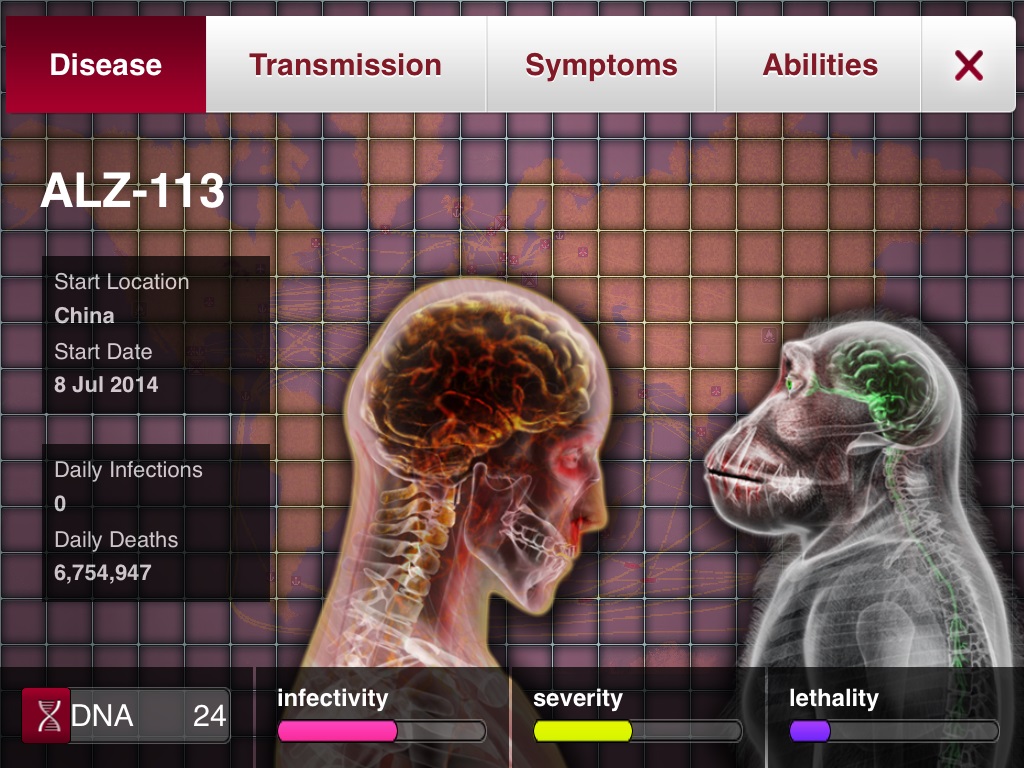 Screenshot from Ndemic Creations
Now on to the released pictures and reaction. Firstly, if you look closely at the two pictures given above we can tell that the plagues 'special' color is going to be green. If you do not know what a plagues 'special color' is it is the color that shows upon the map of the world. For example, the neurax worm is orange and the necroa virus color is black. If you also look closely at the picture given above you can see that near the apes brain above it you see a picture of a camp fire. This possibly might be a human or an ape stronghold. You can also see a fort-like structure on top of the human brain near eastern Europe. This possibly could be a research lab that you have to move your apes to destroy.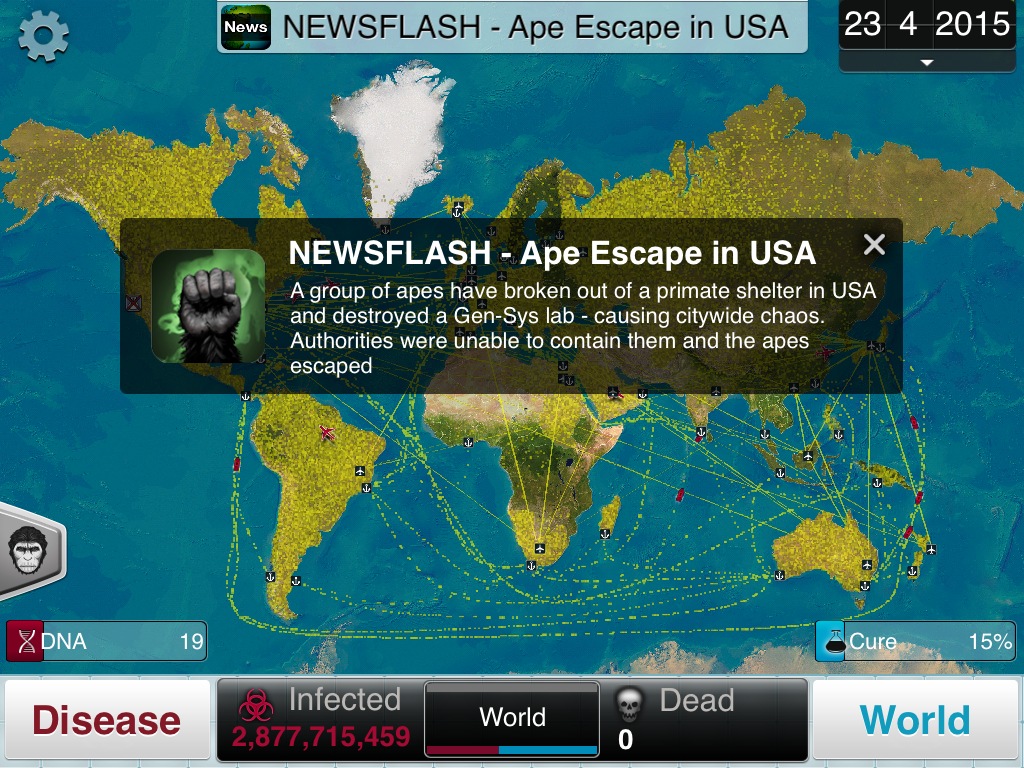 If you look above the DNA amount screen it show a banner which suggests the apes will have special abilities comparable to both the neurax worms' trojan plane special ability and the necroa viruses zombie horde ability.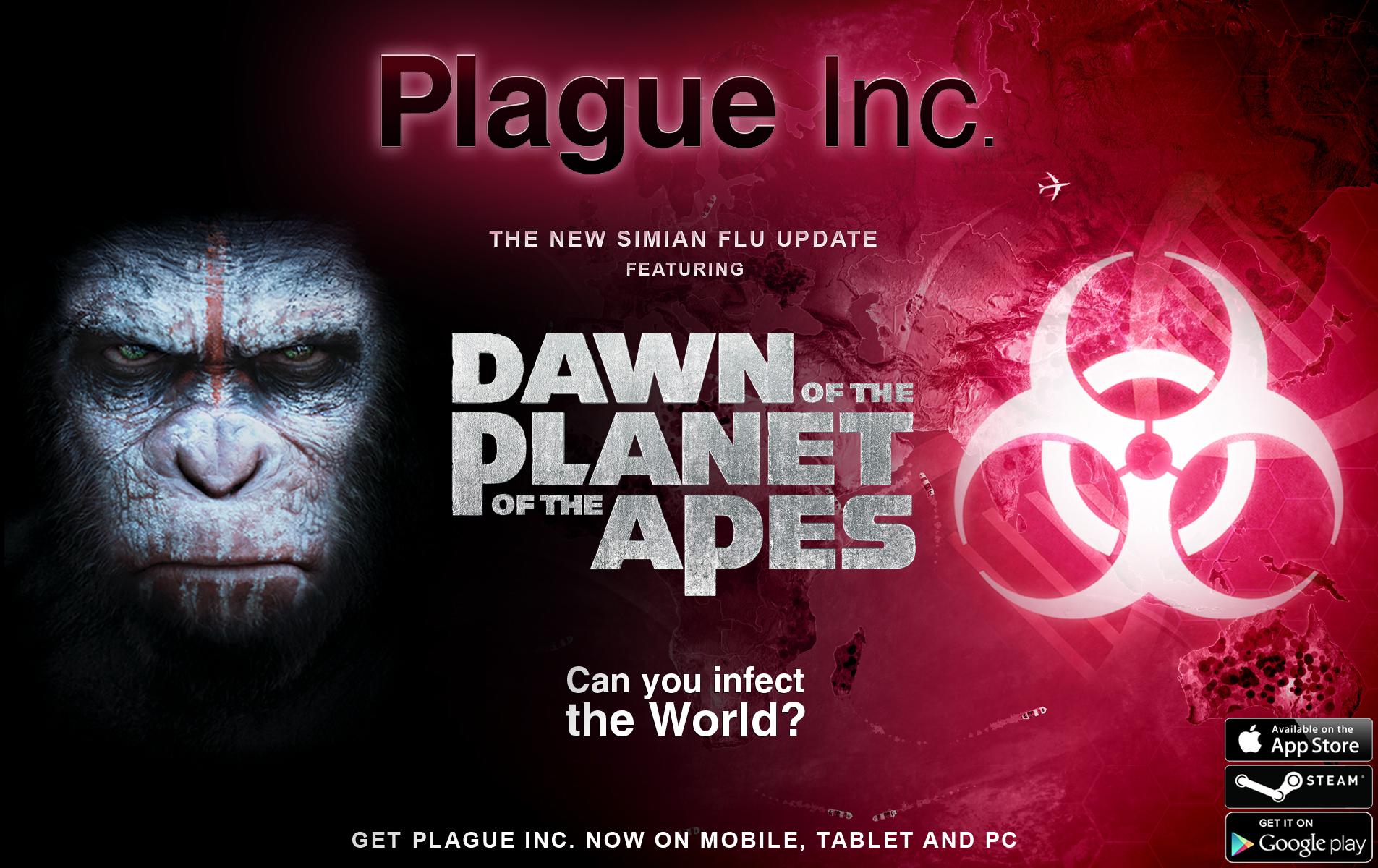 Lastly, the cure seems to have come back for this plague type which is somewhat unusual due to the fact that I do not know how the apes are going to be 'cured'. It is possible that a currently unknown symptom may be similar to the necroa virus cytopathic reanimation symptom which caused zombies in the necroa virus plague type. It therefore made the cure useless and it may be the same case for this special plague but at the moment this is just speculation.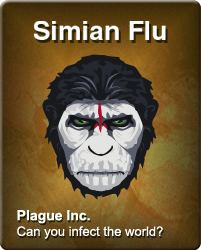 Most likely the plague type will be released on the date that the Dawn of the Planet of the Apes is released which is July 11, 2014. Although, there may be variation due to the time it may take the update to get approved for release on the app store.
What is your thought on the new plague type and reaction to the newly released pictures? State your opinion in the comment section below and have a great day from our team!
Note: The original article stated that it would be similar to the frozen virus and the nipah virus in which the plague would only be able to start in one location. This has been deleted but the rest of the article remains intact.
Thanks to Henry Marden for pointing out the mistake!