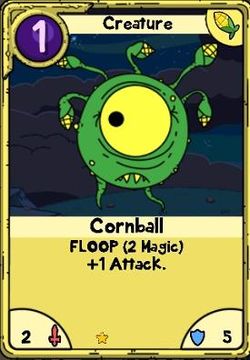 The cornball is a card for the popular game Card Wars. It has 2 attacking points and 5 defensive points. It is a l star card and is unlocked by default at the start of the game. It is also possible to get it in by looting in battle in quest 4, quest 28, quest 30, and quest 44. By quest 10, it becomes mostly useless unless you want to craft stronger creatures such as Archer Dan, Corn Dog, or Travelin' Farmer. Although, you can use it up to level 20 or so but I do not recommend it at all as it is weak compared to other cards in those levels. It effectiveness is significantly reduced again in later levels.
Overall, you might want to go back to level 4 when you want to craft stronger creatures for your corn landscape. The cornball card always has the flooping ability which will give it an extra 1 attack for the rest of the game for the card you floop. It is to note that it will not effect other corn cards. The flooping also costs 2 magic points so use wisely.
Currently, I am going to start grinding it on level 4 to get stronger cards for the corn side of my deck as I am currently leveling up Jake and am hoping to use his special ability to my advantage. I consider the cornball card to be a great early card to use with Jake the Dog as you get extra 3 attack.
I usually use the Husker Knight extra 2 attacking points for anyone on the sides of it in order to balance out the low attacking points. (Even in early game it is somewhat low) I also find the Ethan Hailfire great to counter it as well if you enemy uses the cornball card. When you get to a higher level you can just simply overpower it, for instance if you come back to a lower level and an enemy uses it it should be a easy knockout, like the other cards your enemy will happen to play against you.


In summary, this is a great early card to use and is even more powerful in the early game if you use the hero card Jake the Dog. A simple Ethan Hailfire should be able to neutralize it if you use it.